There are a few scenarios this can happen, find out more here and how it can be fixed...
You've tried to open a secure email and are prompted to verify your email, you've then requested to send a code but an email verification code hasn't arrived. This is likely to be for one of the following reasons:
Junk/Spam - the first place to check if the email hasn't come through to your Inbox is your Junk or Spam folders.
Quarantined email - sometimes emails get held in a quarantined process, even if they have been delivered before, check with your IT Team/email provider to confirm if emails from Beyond Encryption have been held or need further whitelisting. For more details on whitelisting click here
Forwarded email - if you have been forwarded a secure email by a colleague for example and are trying to open the message, this won't work. Only the original recipient will be able to open the secure email. If you are authorised to view the email contents, the colleague will need to create a new secure email with the information needed and will then need to send it to you directly.
Reading as recipient when a sender - if you have sent a secure email to a client via the Mailock web and are trying to open a copy of what you have sent, you'll need to sign in instead, as highlighted below, and this will take you through to your secure email copy: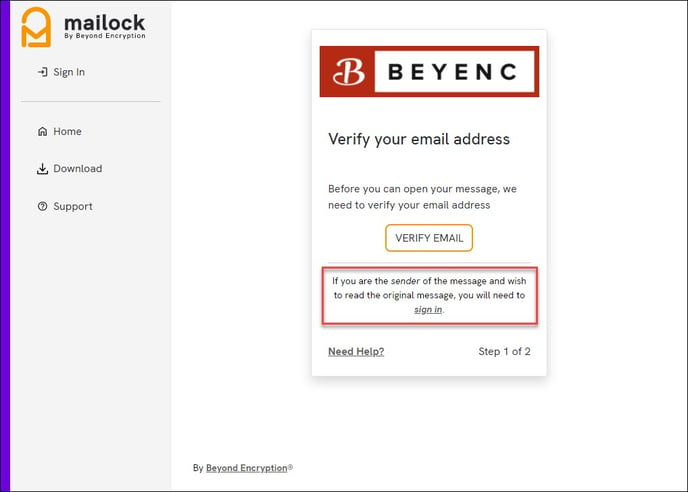 If you're still facing any issues, please get in touch and we'll be happy to help.