If you've received a secure message, clicked on 'Read my message' and are taken to a screen like the one below, then you already have an account with us and will need to sign in to see your message.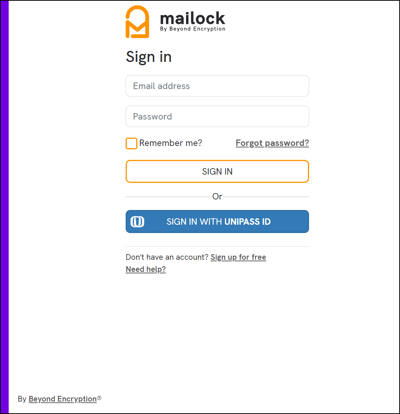 The 'Sign in with Unipass ID' option will need to be used if you have a Unipass Mailock account or a Mailock account with a Unipass ID linked.
If you have a Unipass ID and have yet to link it to your Mailock account or unsure if it is linked, please click here for further information.
If you have a Mailock account and don't use Unipass please click here
Signing in using Unipass ID
The first step is to select the 'Sign in with Unipass ID' button.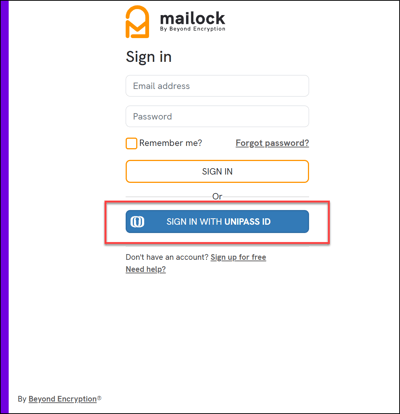 Next you should see a pop up box to select a certificate, click on your certificate.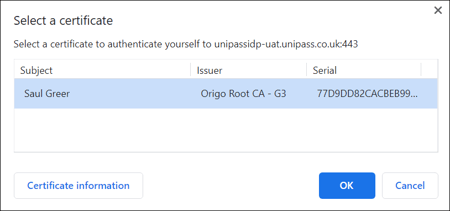 If you have more than one Unipass certificate, click on one certificate at a time and select the 'Certificate information' option and finally select the certificate that matches the email address your secure email has come through to.
Select 'OK' once done.
If you're using Unipass but don't have an Identity certificate and use solely Unipass Username and Passphrase, you'll see the screen below. Type in your Unipass username/email and passphrase and select to 'Log in'.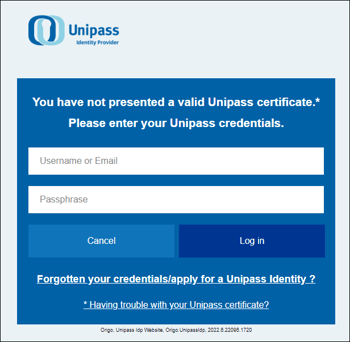 In the event you receive the above screen and know you use an Identity certificate instead, or are prompted with the below screen, it's likely your Unipass Identity certificate is not linked to your account, to check this please click here for more information.
After selecting 'OK' or 'Log in', your account will now be signed in and you should then see the contents of your email, like our example below.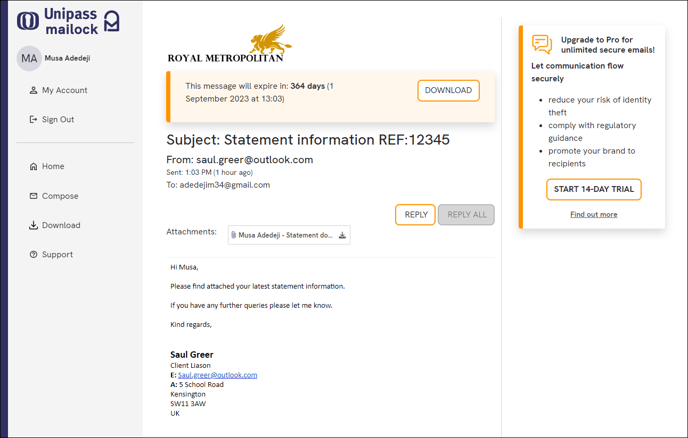 If you would like to reply securely to the sender click on the 'Reply' button at the top right of the screen. For more details and a guide to replying to your sender, please click here