Our Mailock Outlook add-in offers the ability to unrevoke an email if a recipient has failed to answer your challenge question in 5 attempts.
You'll have received an email, like our example below: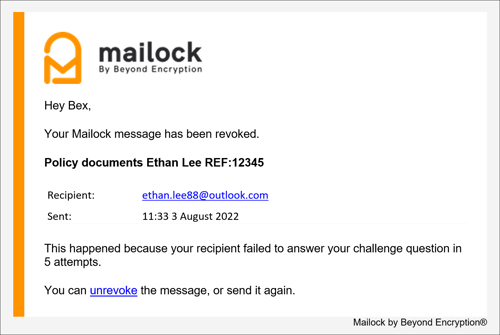 It'll give you details of the email in question that has been revoked. To unrevoke a message, run through the steps below.
Access Details: Unrevoke a message
Navigate to your 'Sent Items' folder, find the message you want to unrevoke and open it.
Click on the 'Email was Secure' Mailock button at the top left of the page, revealing a list of options.
Click on the 'Show access details' option.
In the 'Message access details' screen that pops up, find the recipient you want to revoke access from, as per our example below and untick the 'Revoked' box next to their name. They will now have the opportunity to try the message again.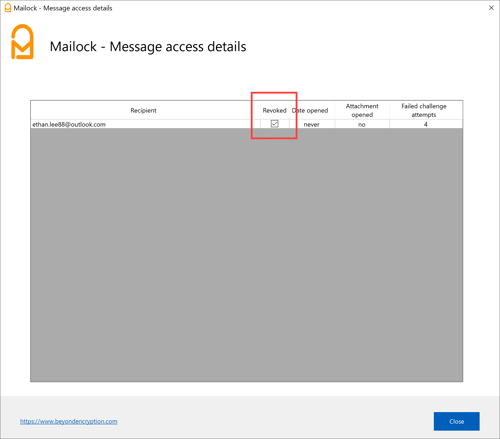 We recommend getting in touch with your recipient to ensure the correct answer is being typed in.


If your recipient answers the challenge question incorrectly 5 times again your message will automatically be revoked, and you will be notified. If you want to give them more attempts just untick the 'Revoked' box, as above.


If you need to revoke a message for any reason, to prevent a recipient accessing and reading it, simply tick the 'Revoked' box.