How your Mailock secure emails appear in recipient inboxes
Receiving a Mailock Secure email for the first time (unregistered user)
See the important end user recipient experience when receiving a secure Mailock message for the first time. Your recipient does not require any software installation and does not need to register for a Mailock account. Registering for a free account is only required upon reply.
When you send a secure message using Mailock there are several different ways the recipient will read it, depending on:
Options you choose when you're sending the message
Whether they have signed up for an account with us
Whether they are part of your trusted community or if you choose to add an optional challenge

If they are using Outlook with our Mailock add-in
Let's start by looking at your send options.
When you send a message using Mailock a check is made to see if the recipient is part of your trusted community. If they're not you will be asked to set a challenge question. Depending on if you're sending via our secure website, or using our Outlook add-in you'll see:
Website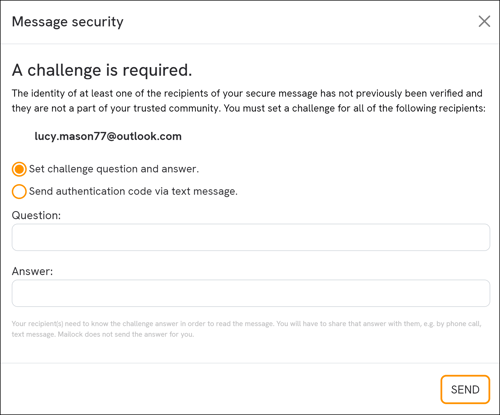 Outlook Add-in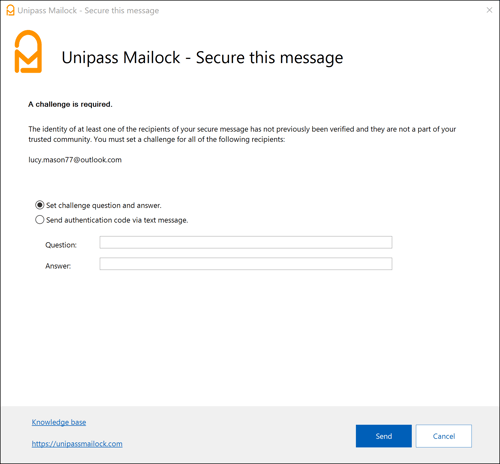 Tip: Even if a recipient is part of your trusted community, you can still add a challenge if you want to 'dial up' the level of security on a message. When you send a message, you'll be told you don't need to add a challenge but you have the option to add one.
The choices you make on this screen results in the recipient doing things slightly differently to see your message. You can set a challenge question and answer or have Mailock send an authentication code by a text message.
Tip: You will have to set a challenge question every time you send a secure message to a guest as, even though they have successfully confirmed their identity, they don't have an account to record it against. If they choose to send a secure reply to your message, they will be taken through setting up an account with us and they will then become part of your trusted community.
Mailock gives you the flexibility to choose what security is added to your message. Depending on what you choose when sending, along with whether the recipient has an account with us, results in different ways for the message to be opened. To see what your recipient would see with the different options click on the descriptions below:
The one additional option is if your recipient uses the Outlook add-in. In this case your message will arrive in their inbox and can be opened like any other email.