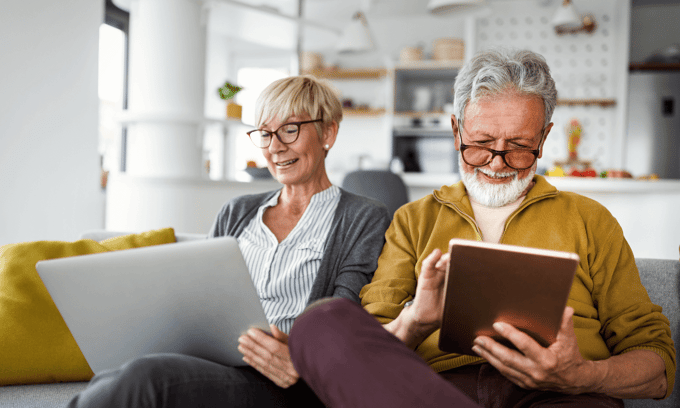 3 Business Alternatives To Print And Post For Confidential Documents
Posted by
Sam Kendall
Video calls, chatbots, self-service banking — with the speed of pandemic-fuelled change, it would be easy to assume that digital channels now dominate customer communications.
But when it comes to customers' most important personal and financial information, communications have not left analogue print-and-post behind.
A variety of answers to the question of delivering the most sensitive paperwork have been posed. Still, over 7 billion letters were sent by Royal Mail in 2022.
With postal costs increasing (by up to 18%), not to mention the ecological cost of print and post operations, business heads are revisiting how alternatives to post could generate bottom-line savings.
Why is there still so much post?
If you work in a regulated industry such as legal or financial services, you'll be well aware of the regulatory restrictions on certain confidential information exchanges.
Recorded post ticks many of these boxes, including:
Record of delivery to the right person

Audit trail for legal liability compliance

Notification on receipt of delivery

An acceptable level of security
Though many digital solutions address these concerns, and more (digital alternatives are usually more secure than recorded mail due to their ability to be encrypted), most regulated information exchanges, for example, your remortgage, involve multiple regulated parties.
This means compatibility has been a barrier to digital transformation in the past as all parties, from SMEs to corporates, need to receive and pass on information without issue.
If you've had difficulty getting over these blockers in the past, don't worry!
Here are some great alternatives to print and post for confidential documents to help you cut postal costs, and make life easier for your customers and industry partners.
Note: The solutions on this list offer packages that cater to individual professionals, small businesses, and large enterprise operations alike.
1. Secure email
Email is the favourite channel for business-to-customer comms. Of those surveyed, 83% of customers prefer email as the main mode of communication.
But for confidential documents, open-risk email (unencrypted emails sent using your default security settings), is out of the question.
Anyone could intercept information sent by open-risk email. It meets neither the security or compliance standards for sensitive information.
Secure email solutions, which encrypt data from outbox to inbox, make sure information and attachments are protected on their email journey.
Email encryption is often extended in secure email solutions with authentication options to verify recipient ID and other features to ensure audit compliance.
Many secure email solutions you will have encountered lack compatibility with other email software or make it difficult for recipients to gain access.
It's worth doing your research here for a solution that meets all your business needs for secure email and is tried and tested in your industry.
Our own secure email solution, Mailock, is designed for maximum security and UK compliance. It's used by over 130K professionals in regulated sectors.
We built Mailock with connection in mind, so it has flexible controls to adjust the level of security and authentication based on how trusted your recipient is.
Our unique approach means Mailock works for any recipient, whatever their email provider. We pride ourselves on it being the simplest to use on the market.
Enterprise organisations can send thousands of documents to their customers and track them all within their company dashboard.
Equally, individuals can add Mailock right into their Outlook inbox and start sending secure emails to their customers without hassle.
See how Mailock secures confidential emails.
2. E-Signature apps
E-signature apps have come a long way in the last few years, from handy freelancer tools to full-scale enterprise contract management platforms.
When confidential documents need signing, or when they take the form of paperwork that needs filling out, the best e-signature apps come into their own.
An e-signed digital document is timestamped and encrypted, making it secure and auditable so that it is compliant with legal and regulatory guidelines.
E-signature apps also come with additional features that can be particularly useful for customer communications.
Need to keep sending the same form to different customers? Most tools allow you to store templates you can send out with a click.
Enterprise features for collaboration can be particularly useful when you have contracts that need signatures from many parties.
Rather than sending the document to one person and then the next, everyone can jump on and add their mark when they want.
It must be said that customers can find e-signature tools quite daunting, especially as many are targeted more towards inter-business use.
Whereas everyone knows how to open an email, asking customers to log into an application, often having to create an account, is a level of friction that must be considered.
When looking for an e-signature app that will work for your customers, it's important to try before you buy and consider solutions that are primarily for this purpose.
Want to know the best e-signature apps? Take a look at this list.
3. Customer portals
Customer and client portals are on the rise. A study in the U.S. suggests that 88% of customers expect a brand to have a self-service portal.
In terms of their features for confidential documents, self-service portals are spaces where large files can be shared between business and customer.
Portals are often bespoke, so can include any number of other elements, though common features in portals for regulated B2C industries include:
E-signature capabilities
Secure email integration
Customer service channels
Self-service content and education
There are many prebuilt portals for particular business types that small and medium-sized businesses use "out-of-the-box" but there is certainly a lot of variety.
Variety is, of course, not always a good thing. Though portals are prolific and customers seem to expect brands to have them, 55% think they are difficult to use.
The foundation of a portal is that it is a secure space - one that customers are required to log into. Most often, this is done by password - another one among many.
With portals, ease of use must be a top concern, or you're in danger of being associated with digital friction and frustration as opposed to a streamlined digital process.
There are a variety of portal providers and solutions that can help you reduce friction and heighten engagement, including passwordless login integrations and other tools to make your portal less of a walled garden and more of an omnichannel comms solution.
As one example, extending your portal with secure email means you can deliver a document to your customer's inbox at the same time as storing it for anytime access.
Mapping the workflows in which customers will interact with your portal should not be done lightly - it will make or break your portal's ability to increase comms efficiency.
Read Head of Network Carole's advice on maximising client portal usage.
(E-)Signing off...
Alternatives to sending confidential documents by post have come a long way in recent years, and with the rising cost of Royal Mail's service, they're worth having another look.
Using a carefully planned combination of media, including secure email, e-signature capabilities, and a customer portal can maximise engagement, efficiency, and value.
You'll never replace the feeling of a handwritten letter, but in most business cases, switching to digital - or at least giving customers the choice, is an option worth considering.
Subscribe
Join our secure email community
Subscribe for exclusive content on secure communications for professionals in regulated sectors.