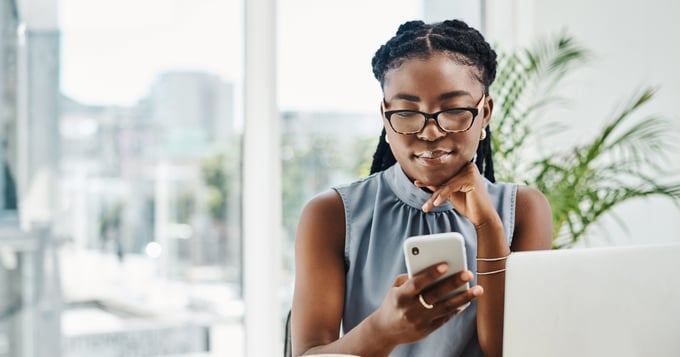 Maintaining Privacy, Transparency and Security Within Your Business
Posted by

Sabrina McClune
For an organisation, building and preserving consumer trust is key. While there are many aspects that contribute towards this, data-related practices are arguably one of the most important.
Across all industries, companies rely on customer data more than ever. However, they can fall into the trap of failing to consider the ethics behind data and ultimately being unable to keep customers and their data safe. In this article, we explore what data ethics is, why it's so important, and how businesses can adopt a framework that ensures they are carried out.
What is data ethics?
Data ethics are guidelines that govern how customer data is handled. In other words, they are best practices that can be carried out by companies to ensure that they remain clear and open around their data use while upholding the privacy and security of customers' information to high standards.
There are generally considered to be 5 core pillars within a data ethics framework, including:
Ownership – An individual has ownership over their own personal information, making it unlawful and unethical to collect someone's data without their consent.
Transparency – Ensuring your actions and processes towards gathering, storing and using data are published and accessible for inspection.
Privacy - Even when a customer gives consent for their data to be collected, stored, and analysed, you still have a duty to uphold in regards to keeping this data private and protected.
Intention – You should have a firm idea of why you need data before you collect it, with malicious intentions such as profiting from vulnerabilities or harming others being unethical reasons.
Outcomes – Undertake all possible measures to predict harmful outcomes to potential data analysis.
Why is data ethics important?
Digital transformation is steadily changing the face of business – and data plays an important part in this. By 2025, an estimated 463 exabytes of data will be produced each day, and it's an organisation's duty to implement a strong ethical framework that protects customer information during data collection, handling and storage processes.
This will be especially important in the next year for financial services, with the new consumer duty coming into play. However, each industry has regulatory guidance to fulfil that aligns with the principles of data ethics.
While past efforts have been solely placed on understanding and achieving compliance, organisations are seeing the potential regulations and data ethics have in shaping and driving transformational change, leading them to embed a customer-centric, data-privacy-focused culture into their business.
This will be a vital step for organisations to take, as consumer trust in businesses is reducing. Building loyalty now requires the establishment of digital trust, and research from KPMG has revealed that consumers are sceptical of how companies safeguard their personal data against misuse and theft. An estimated 54% feel that companies cannot be trusted to use their personal data ethically and 68% believe that companies will sell their personal data in an unethical way.
What are the risks of failing to consider data ethics?
When we consider what data ethics is and why it's important, we can start to see what can go wrong when businesses fail to apply it to their processes and customer base. One of the main risks for businesses that fail to appropriately protect their customers' data is a heightened risk of cyber threats, such as data breaches and attacks.
It is estimated that a staggering 80% of businesses throughout the world are affected by cybercrime, meaning customer data housed within organisations is now more at risk than ever before. Personal customer information that is not adequately safeguarded can be targeted by cybercriminals for purposes such as fraud and identity theft, leaving customers with raised concerns over how data is used and managed by companies they interact with.
According to McKinsey:
40% of customers stop doing business with companies that do not protect customer data
53% use digital services only after ensuring that the company has a reputation for protecting customer data
87% said that companies who are perceived to be ethical and trusted help to positively affect their buying decision
This means that cybersecurity and data ethics have become intertwined and must both be considered in order to maintain digital trust with customers. However, despite consumers using data protection as a key buying factor, currently only an estimated 23% of businesses actively mitigate data privacy risk across their entire organisation.
How to counteract risk and apply data ethics
Going forward, business leaders must create and implement a comprehensive framework that embodies the elements of data ethics and determines the internal steps that can help mitigate cyber risk and keep customer satisfaction high. This will involve employing high levels of empathy and accountability throughout the business in order to maintain a customer-centric approach to data privacy and security.
Technology will play a vital role within this framework, giving businesses the tools they need to incorporate privacy into their processes and protect consumers throughout their services. These technology solutions should enable robust and ethical data sharing at all points of the customer journey, and without hindering productivity. Core capabilities should include protections such as end-to-end encryption and multi-factor authentication, building a layer of defence between cyber criminals and data storage units, as well as protecting sensitive customer comms.
In a digital world, privacy is a human right. Yet, many organisations are unable to confidentially say that their customer's data is safe from harm. By viewing data through the lens of ethics, businesses can build sustainable business models that place privacy at their core.
Subscribe
Get live updates
Subscribe to our exclusive secure communications content for professionals in regulated sectors.